The HAT used for the Astro Pi mission is called the Sense HAT. It's a multifunctional board with the following features:
8x8 RGB LED matrix with 16-bit colour resolution (RGB565)
ATTiny88 for LED matrix driving with field-flashable firmware
9 degree of freedom MEMS IMU with combined accelerometer, gyroscope and magnetometer
Absolute pressure sensor
Combined temperature/humidity sensor
5-way miniature joypad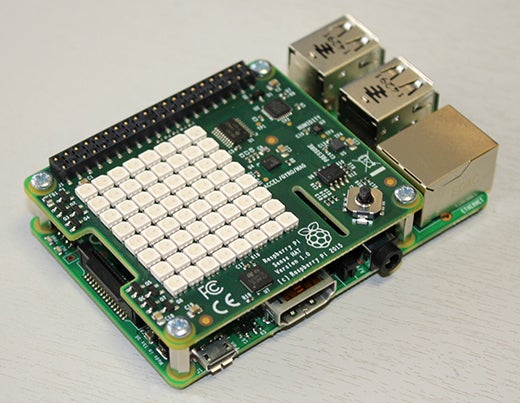 Details on the Astro Pi mission (part of Tim Peake's Principia mission) can be found at
http://astro-pi.org/
.
The Sense HAT is currently in limited distribution to schools and educational establishments who have entered the Astro-Pi competition and have either had a commendable entry or have won a class set.
Schools and other educational establishments who wish to enter the competition can email
[email protected]
to apply for a free HAT. You should provide a good description of what your entry will do for Tim Peake on the ISS. Please note that this will not entitle you to a board though! There are only a limited number available so we will be selecting recipients based on what you write in your application. Choose your words carefully!
We are currently doing the preparatory work needed prior to spinning up volume production: watch this space for updates on commercial availability.