Continuing on the success of
the LinkMeter Project
come the HeaterMeter v4.0 revision for RasbperryPi or standalone use.
HeaterMeter for RaspberryPi joins an Arduino / AVR ATmega328 microcontroller with OpenWrt running on a
RaspberryPi
$35 wonder-computer for the purpose of providing oven-like control of a charcoal BBQ grill via web interface. The microcontroller controls a fan which limits airflow to the pit, displays the current status on a character LCD, and passes the data on to the RaspberyPi which streams real-time updates to connected web browsers. The website also works on mobile browsers running Android or iOS, allowing users to unchain themselves from their grills and partake in many life-enriching activities such as
Going to the grocery store to buy more beer
Going to a bar to drink more beer
Not get off the couch, where your beer is
Possibly other non-beer related hobbies
HeaterMeter is also reportedly suitable for connecting to a solid state relay and controlling a
sous vide heater
if you prefer your food float around in fancy water instead of smoke and fire.
LinkMeter Home Screen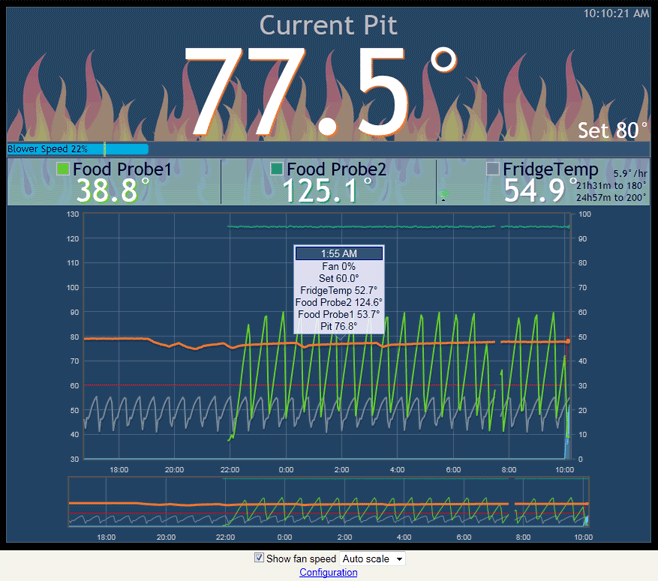 Project Page
-
GitHub Hosting
LinkMeter/HeaterMeter is an 100% open source project and is hosted on my GitHub page. The ultimate source for information is the
HeaterMeter Project Wiki
and
the TVWBB SubForum
. Open source means you're free to modify it as you see fit. Change the background color to cyan, replace everywhere it says "Pit" with the word "Poo", rewrite the whole thing in Visual Basic or just add a feature I'm too dumb or busy to implement.
Hardware
A custom PCB mounts directly to the Pi, which handles the heavy lifting of building graphs and serving dynamic web content through AJAX/Server-sent events. 12V input is stepped down to 5V to power the Pi, ATmega328P controller chip, and wireless adapter all from one plug. The ATmega is programmed directly over the SPI bus from the Pi and communicates over the serial GPIO pins.
Cost
About $75 in parts, plus probes and a case. HeaterMeter uses probes from a Maverick digital temperature kajigger so if you already have those it will save you some money ($10/ea).
This post is a shameless attempt to draw more attention to the project so I can steal your good ideas and implement them. The main
HeaterMeter 4.0 thread
but I'm happy to answer any questions here or there.