I did move the good 1500rpm gear motor and continuous track from the other T101 over to the big raspcatbot.
Then I realized that it will never drive controllable by a joystick because of likely minimal speed of 1m/s (no problem if running autonomous).
I wanted to slow down the 2nd T101 for work on wifi joystick control. This was done by using the original 330rpm gear motors.
The new lipo did not arrive yet, so I cannibalized a 3S 25C 1000mAh from the big raspcatbot.
And I used the new design shown two postings ago.
To my surprise powering both motors as well as the step-down converter to power the Pi from single lipo works without issues.
New raspcatbot does work already, currently it can drive forward and backward only.
Because the motors behave very similarly, it nearly does drive straight, see diagram below.
I wanted to capture a video of new raspcatbot driving, but the heartbeat emergency stop gets triggered always currently. There is a simple reason, the Pi ZeroW was not booted for 5 months, and I did a "sudo apt-get update; sudo apt-get upgrade" and that is still running. This takes so long on a Pi ZeroW. Will be interesting whether heartbeat signal will interfere with first person view of camera installed in front (via uv4l, to be installed after update is complete). This is the new design -- so much smaller than the old (6.7MP image has the details):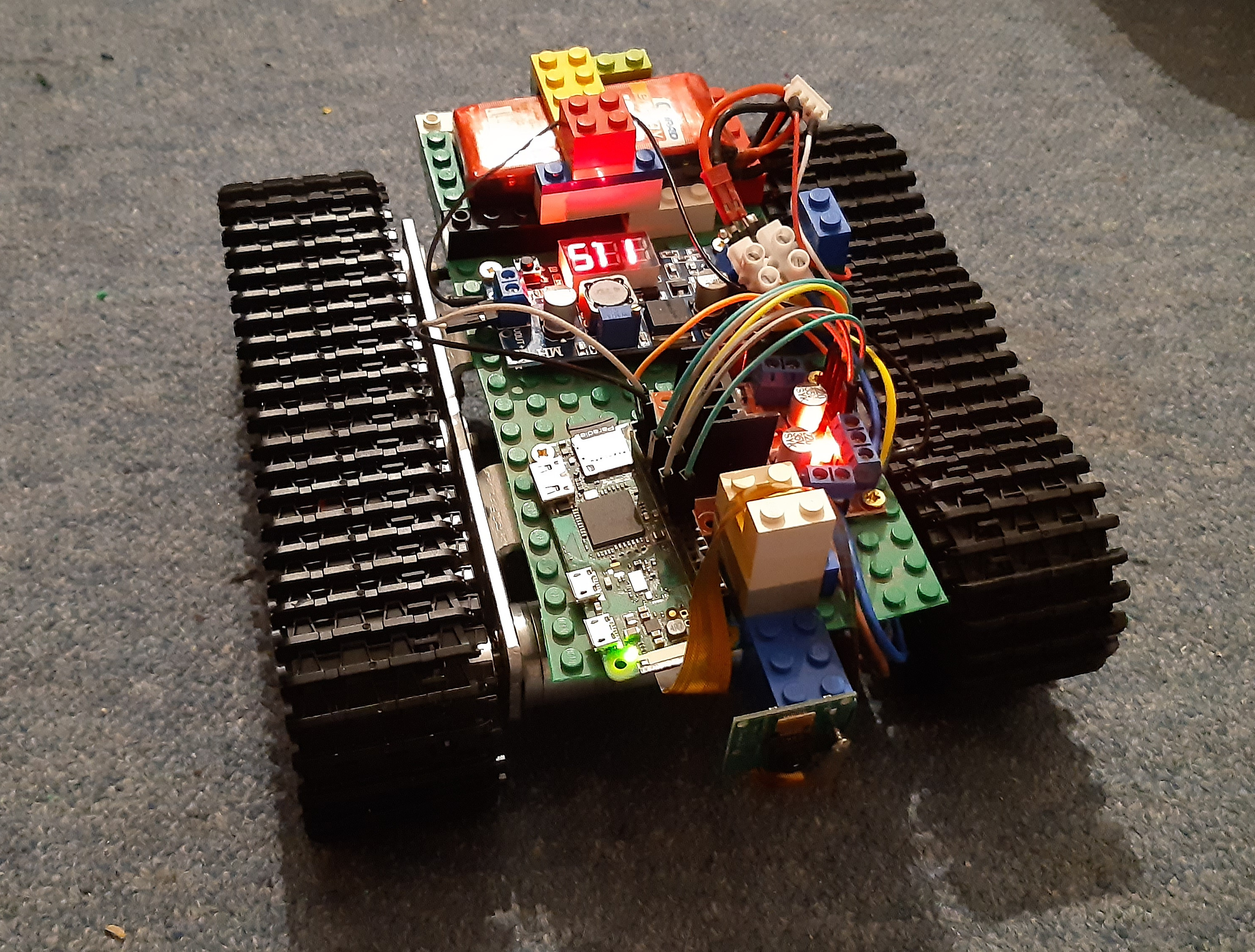 318rpm corresponds to 1m/s, and that is roughly the maximal speed at 12V with the 330rpm gear motors. But raspcatbot can drive much slower speeds now:
P.S:
Interesting, raspistill did not work during and after upgrade, after reboot it worked again.
This is raspcatbot's view from camera mounted in front, I measured that the first 14cm of ground before camera is blind spot.
Code: Select all
raspistill -md 7 -w 640 -h 480 -o tst.jpg -br 60
P.P.S:
Only 778g (compared to 1227g of big raspcatbot):