I've spent the last two weeks trying to get my project off the ground but haven't got very far.. just more and more frustrated.
After reading numerous posts (literally ALL posts on the forum tagged 433, rf). I went ahead and brought a cheap receiver and transmitter from eBay in hopes I would hook these up to my Raspberry Pi and get cracking at trying to create my Star Trek themed home automation
.
I brought these in particular
http://www.ebay.com/itm/1pcs-RF-transmi ... 564e8e0e83
, When they arrived I tried putting it all together, there is little guidance on how to do this for newbies like me. A few articles on Google and The MagPi.but nothing for noobs. I think I ended up breaking the receiver.
So I am now searching for a USB solution for my Raspberry Pi, something I can interact with using the command line and or PHP. I.e. Listen to 433 or "receive" and send commands.
Anyone know if these would work for the Raspberry Pi? Specifically Number 4?

Options..
1. MultiTRX: http://www.skagmo.com/page.php?p=projects/11_mtrx

Most promising solution but it seems like the developer discontinued the product / project. Which is a shame as it would have probably worked nicely!
2. RFXCOM RFXtrx433: http://www.uk-automation.co.uk/products ... rx433.html

Too expensive and well out of my budget!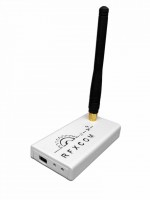 3. TellStick Duo

Can't find it anywhere for sale in the UK, Way to expensive! (Over £100 not incl delivery)
4. USB-1100PA 433MHz Wireless RF Transceiver Module - White + Black

Affordable but will it work with my Pi?
http://dx.com/p/usb-1100pa-433mhz-wirel ... ack-159139
..Found what looks like the same USB dongle but on eBay a little more expensive:
http://www.ebay.com/itm/RF-USB-wireless ... 19db6060db
Will option 4 work my Raspberry Pi ??