I am happy to announce that Mikronauts advanced robot controller for the Raspberry Pi is now available!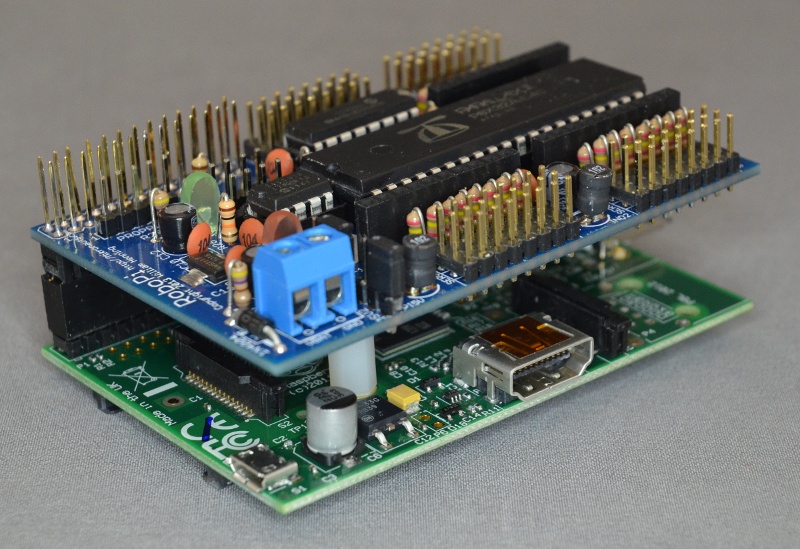 RoboPi stacks on top of the Raspberry Pi with an extra tall stacking header, and adds an eight core 32 bit Parallax Propeller running at 100Mhz to the Raspberry Pi to off-load hard real time I/O from the Pi.
RoboPi provides eight 0-5VDC analog inputs, and 24 digital 5V tolerant I/O. The digital I/O is broken out to three 10 pin female connectors for use with Mikronauts 10 pin modules and/or user modules, as well as three pin servo headers, in groups of eight I/O's. For the first two groups, the user can select between 5V from the Pi or an external battery (for powering the servo headers), for the last group the 5V is from the Raspberry Pi as that bank is intended for sensors or expansion modules. RoboPi also works well as a powerful I/O expander.
NOTE:
RoboPi is supplied in a kit form in order to be more cost effective for schools, clubs and individuals.
For more details, including photographs and pricing, please visit
http://www.mikronauts.com/raspberry-pi/robopi/
Documentation and sample code is currently being completed, and will be released within one week.
An assembled and tested SMT version can be made available given orders from distributors.
I would be happy to answer any questions you may have about RoboPi.
You can email me at 'mikronauts' at 'gmail' dot 'com'