I will start working on providing high framerate options to raspiraw for v2 camera (besides --fps) soon.
As a first quick test I wanted to follow up on 424fps recodings (640x480, but only top 215 lines got updated) posted earlier in this thread:
viewtopic.php?t=109137&start=425#p1274431
I increased fps up to 840fps, when I noticed that there recording speed dropped to 400something fps.
So I went back to 800 fps recording, and frameskips where in 1% range. I did not have the enhanced analysis program from referenced posting with me, will use that from Pi 2B when back at home. This is a frame processed with dcraw and converted to .png: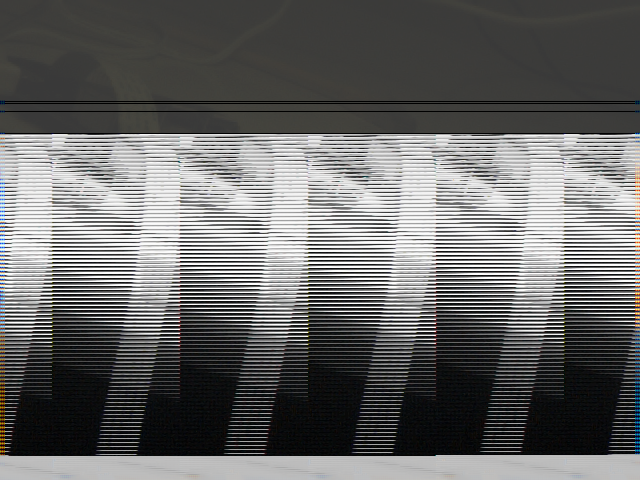 As I said only the top 100 lines get updated, and I need brighter light on the scene (800fps is 1.25ms frame time only). Post processing can easily extract top 640x100 line frames for final video creation.
But this experiment gives a very exciting number:
100 lines (of length 640) at 800fps!
My up to now favorite raspiraw capturing tool is "640x128_s" for v1 camera. That captures 64 lines out of 128, doubles the lines to 640x128 frames in post processing, and that at 665fps.
For the same format by above number 800*(100/64)=1250fps for v2 camera seem to be possible ...
P.S:
I just noticed that the black lines below that on line 101 are from previous experiments with less than 800fps:
111 lines at 740 fps
134 lines at 640 fps
The frame shows my Pi 3B+, you can (hardly) see camera cable and cable from Raspberry power supply at top of the frame.
P.P.S:
That framerate range is confirmed by v2 camera able to capture 640x480 at 180fps (although that number is with raspivid and GPU):
Code: Select all
$ echo "180*(480/64)" | bc -ql
1350.00000000000000000000
$ 

v2 camera can do 640x480 at 240fps with raspiraw, that would point to even higher framerate:
Code: Select all
$ echo "240*(480/64)" | bc -ql
1800.00000000000000000000
$