Some time ago I saw a 20$ free shipping offer on banggood.com for
2.4G Piper J-3 Cub RC airplane
and ordered it. Besides just flying, I wanted to try adding a Pi Zero with camera to the 23g weight only airplane for flight video recording on SD card.
After having received the plane I did a lot of flights to learn how to fly. Finally I was able to fly despite heavy wind (climbing is easier with that) and even in heavy rain (the built in lipo did 10min normally, did 6:20min in heavy rain). The plane never landed like a real plane (I did not add the shipped wheels), and landing happend on grass.
The first "Pi Zero with camera" experiment I did was to add a 13.8g payload to the airplane and see whether it flies with that: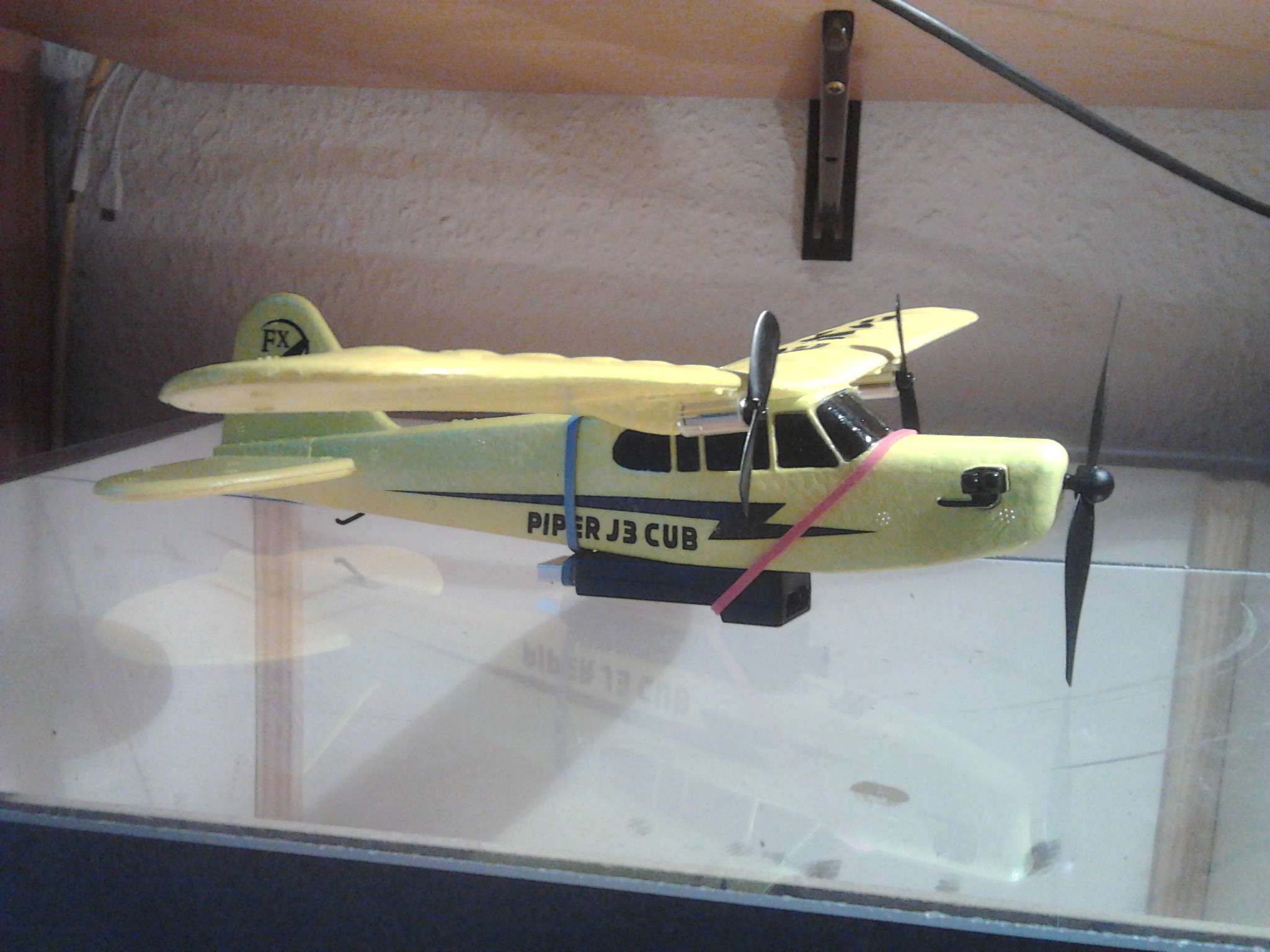 Lucckily the airplane did fly, in case I chose a payload position that made airplane neither font- nor rear-heavy.
Pi Zero with camera and ribbon cable does weigh 12g:
Pi Zero costs 6$ with shipping. v1 camera (only available in China) 7$ and Pi Zero ribbon cable 1.10$, with free shipping from China. Together with airplane that is 40$ in total.
Next experiment was to open up the airplane and do "something useful". I chose to replace the 5.4g 150mAh lipo with a 17.8g 600mAh lipo for much extended flight time. Here you can see the opened up internals: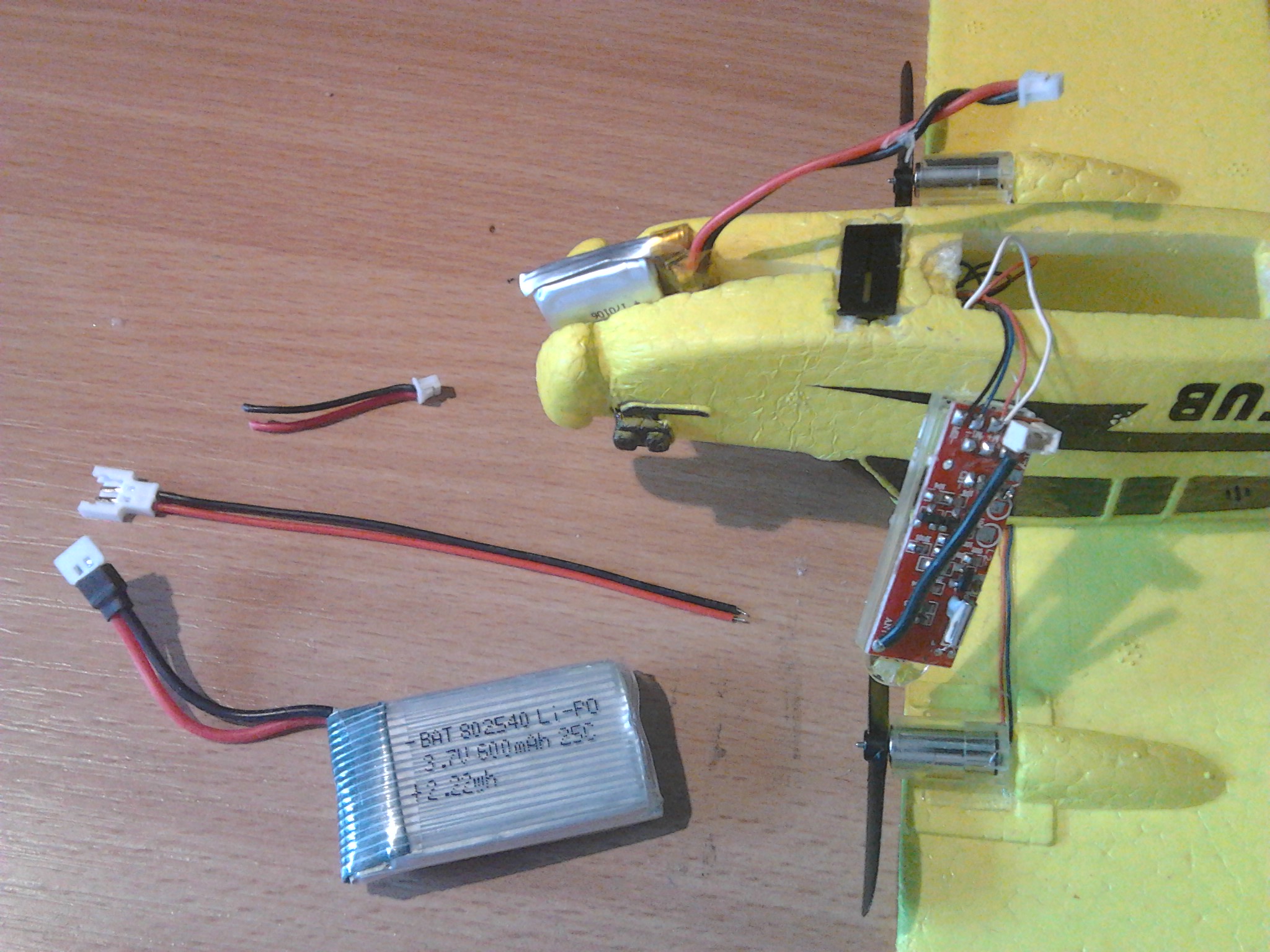 I had to create a connector adapter, and most importantly, connect red to black and black to red since the plug into board had opposite colors than used. This shows airplane after the changes, connector adapter is hidden in the airplane, total weight 38.3g: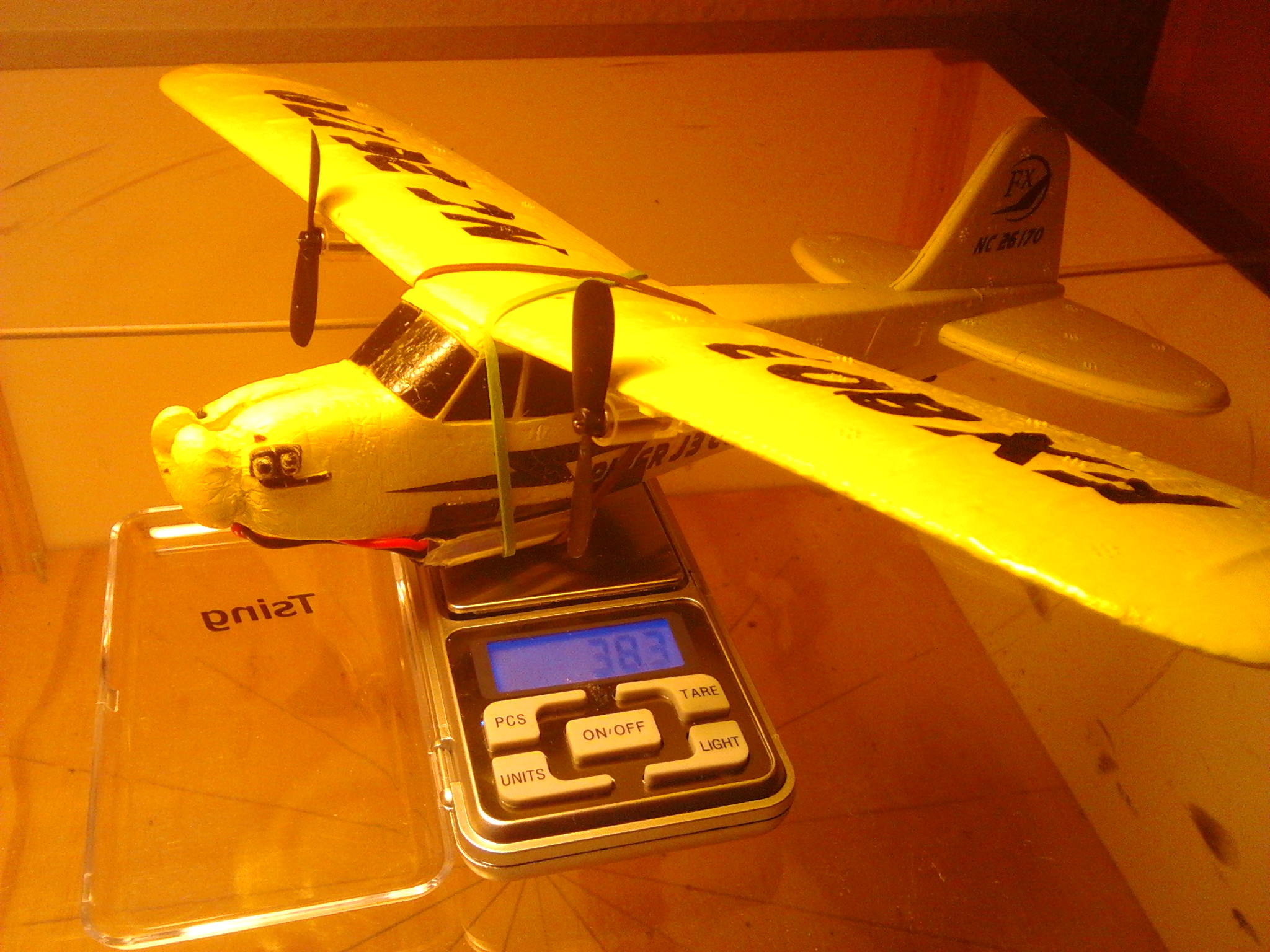 I did fly successfully, high, and long with this modified airplane. I really like to fly very high, but the problem with that was that I only saw a "dot" in the sky and it was difficult to see the orientation of the plane in order to do the needed flight controller actions. The control range according airplane packing is 80m. Tuesday two weeks ago I did fly high and it was windy. Result was that airplane got out of control range and I could not control it anymore. I did run direction of the plane while it crashed to earth, but I was not able to see where it did land. All I knew was that it landed somewhere in this 95mx33m search area (from gmaps pedometer):
I searched more than an hour that day, in gardens and looking up high trees. I did not find the airplane and ordered a new airplane (for 22$ at that time, that price range is similar on banggood.com and aliexpress.com) the same day. Plan was to add Pi Zero and camera, and go on a Search&Rescue mission when 2nd plane arrives