I made many more search flights with drone, found airplane on three videos.
Today I copied out the parts of those videos that showed the airplane, did crop top left 700x360 from 1280x720 frames, slowed down framerate of 30 fps to 6 fps, concatenated the videos (all with ffmpeg) and converted to animated .gif (with gifenc.sh).
First airplane enters scene from top right to middle right hidden by leaves, then plane enters frame from middle top and leaves top left, and finally plane enters from middle top and leaves middle top: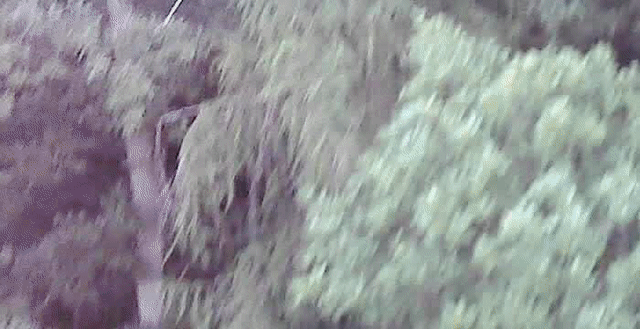 Unfortunately Iost the camera drone today as well, it flew very high, I lost sight, then it fell down and I had no idea where to search (I did hear drone hitting some tree, but had no idea of direction). I went into the wood, then smaller wood and finally near horse stable, always turning drone motors on and off. After 10 minutes I did hear the drone in trees near horse stable. I walked around the trees to ensure acoustically that drone really is somewhere in those trees and not somewhere on the ground. The small 5m diameter circle is where the airplane is in tree 20m above ground, the 10m diameter circle is where drone is in trees:
Regarding my plans wrt Pi controlling drone flight I made progress in flying drone without lipo yesterday. Finally (with thick cables) I was able to fly drone tethered with 4.19V and 8.5A, allowing for unlimited indoor flight time (after I have been told repeatedly in that thread that this is not possible). I hope these are not the last pictures of my drone:
https://forum.arduino.cc/index.php?topi ... msg3786115
Now I have to wait for FPV drone I did order 9 days ago during banggood super-sale for 20$ with free shipping to arrive.
The E52 will definitely allow for search of lost drone, and hopefully even allow to rescue RC airplane in tree 20m above ground:
https://twitter.com/HermannSW/status/10 ... 2218242049