I used a 5000lm led with 50W LED driver a lot for very high framerate (>700fps) raspiraw videos, because those videos where just dark when lit with 1000lm or below.
This is the set of 50W driver and 50W led I bought, currently special deal of 6.99$ in total:
https://www.aliexpress.com/item/High-Po ... 77294.html
Today I received two spare 50W leds I ordered after much very good experience with the one I had. After I tested each separately, I decided to test to power the two new leds with the single 50W led driver I have. I placed the two leds back-to-back, so that + and - where on same side, and connected the led driver cables to both. To my surprise both leds did shine very bright (since I have no cooling I can only power the leds for some seconds, but that is sufficient for taking very high framerate videos of closing mouse trap or yo-yo action, since /dev/shm available memory restricts video to less than 16s in length).
Some questions:
1) is 50W led driver used capable of driving 2 (or even 3) 50W leds?
2) if yes, will I get 10000lm(15000lm) light then?
3) how can I verify this? (light measurement somehow, or current measurement?)
Find the technical specs of driver and led further below.
This was test setup with led driver driving 2 leds at once
(for me much brighter than the photo shows):
This is 50W led driver data
(Input, AC:85-265V, 50/60Hz -- Output, DC:20-38V, DC:1500mA±5%, 50W):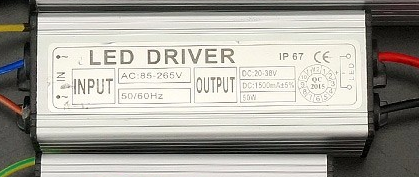 This is 50W led data (I have 3 "cold white" type leds):