Two years ago I played with PT (Pan Tilt) bracket for Raspberry camera with my caterpilar robot (only the tilt part):
https://www.raspberrypi.org/forums/view ... 1#p1231151
The raspiraw based automatic tilt procedure brought camera into a defined position after starting.
Camera went up, then vertically down, and then stepwise up until black robot front became bottom of FoV:
My secondary living place in Holzgerlingen/Germany (near IBM Böblingen lab) has a nice view out of slanted roof window onto entry lane of Stuttgart airport. As a new project I wanted (as the title says) do automatic PT control for a (centered) capturing of approach for a landing. Recently I received some new 1$ PT brackets from aliexpress for that (I have some SG90 servos at home already):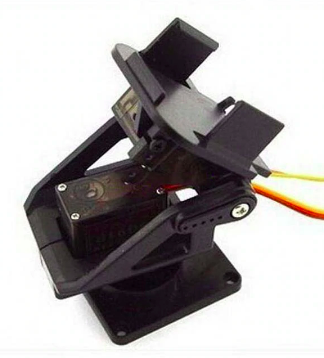 As a pilot study I took a short video with Raspberry camera of an approach for a landing during dusk, with this command:
Code: Select all
$ raspivid -t 0 -md 1 -w 1920 -h 1080 -o tst.h264 -fps 30
Then I converted it to .mp4:
Code: Select all
$ ffmpeg -framerate 30 -i tst.h264 -c copy out.mp4
Finally I did cut out partfrom second 16 to second 44:
Code: Select all
ffmpeg -ss 16 -i out.mp4  -t 28 -c copy out.1.mp4
And converted that to a nice (scaled down to 640x360) animated .gif using this thechnique:
http://blog.pkh.me/p/21-high-quality-gi ... fmpeg.html
I did upload the complete 2MP@30fps .mp4 to youtube as well.
In one of the first frames you can see roof top of next house and airplane at top left:
https://www.youtube.com/watch?v=sW4VpSM ... e=youtu.be
I am really happy that capturing airplane video at dusk works, and that I did capture the airplane quite well given the fact that I did it blindly with no video control during capturing.
Yesterday I took some screenshots from
https://www.flightradar24.com
. In this screenshot I marked the airplanes with approach for a landing at Stuttart airport (white circle) with blue circles (you can click on an airplane and get start and destination airport information). Holzgerlingen is marked with filled red circle: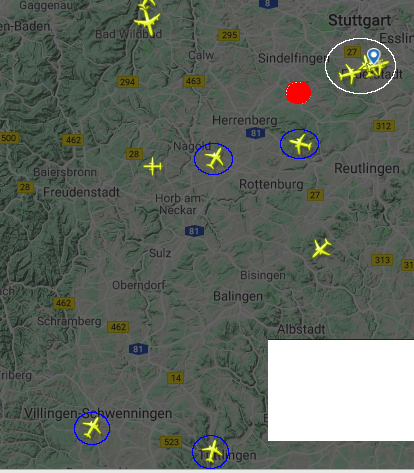 As you can see there is a steady stream of airplanes landing, so automatic PT capturing might move camera to left, wait for airplane to come in sight, follow it centered until it is out of sight, and then repeat.
Today was a good pilot study, more to come.
P.S:
This is a good "slow speed" (the servo motors, not the airplanes) live camera video processing excercise before doing live camera video processing to control high speed caterpillar robot.