In 2018 I worked on getting Raspberry v1 camera (clone) do global external shutter capturing.
In the end quite impressive global shutter type videos and frames got captured:
https://github.com/Hermann-SW/Raspberry ... al-shutter
Thread "Arducam cameras fitting Raspberry CSI-2 interface" showed that Arducam color and monochorme cameras as well as stereo hat can be used via Pi CSI-2 interface:
https://lb.raspberrypi.org/forums/viewt ... 7b79e54da0
In this thread only the monochrome global shutter cameras will be looked at.
In this posting I work with ov9281 sensor based 1MP 1280x800 monochrome global shutter MIPI camera.
The STROBE pin (when used as OUTPUT) allows to get signal when pixel array starts integration.
Raspberry camera hardware sync pulses trigger a bit later, when camera starts to send frame to Pi.
https://www.uctronics.com/arducam-ov928 ... amera.html
In previous work with v1 camera it was essential that the very bright light (5000lm or more) was active for single digit microsecond duration only, in order to achieve the global shutter effect. With a real global shutter camera like the ov9281 that is not necessary.
As first experiment I did setup a Pi controlled 5000lm LED used from v1 camera work:
https://github.com/Hermann-SW/Raspberry ... al-shutter
This is complete setup, ov9281 camera and fast rotating mini drone propeller in the clamps of soldering third hand, camera connected to Pi4B CSI-2 interface below, GND/3V3/GPIO18 connected with MOSFETs GND/VCC/SIG pins (16MP photo for detail view):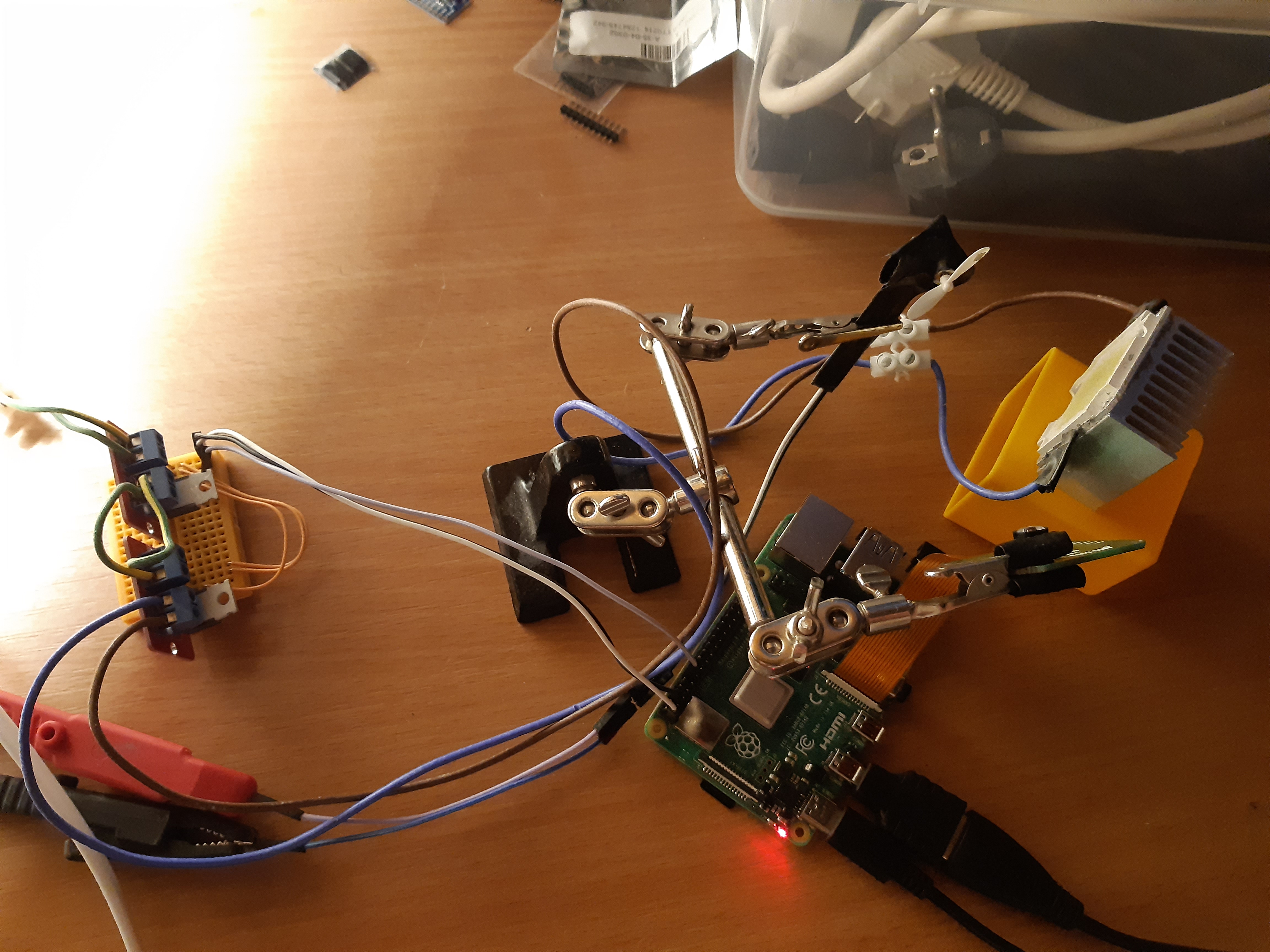 I did play with Arducam opencvGui demo app. That app allows to change exposure in 200 steps from 0x0000-0xFFFF.
The only change I did was to change 0xFFFF to 0x00C8, allowing to set exposure register to values in 0..200 range:
https://github.com/ArduCAM/MIPI_Camera/ ... i.cpp#L183
After some experiments with slow and faster propeller speeds (propeller motor is connected to constant voltage power supply) I ended up at normal 3.3V voltage for the motor. I measured with laser tachometer that propeller did 25100rpm for that voltage. That is quite fast, 44.7m/s or 160.9km/h rotational speed at 34mm diameter blade tips.
First experiment was not to use the 5000lm led, but normal 1000lm light directly in front of propeller, shining the whole time.
The minimal exposure where a little bit can be seen of the rotating propeller was 5.
Even that very low exposure value is not fast enough, the propeller is not displayed sharp: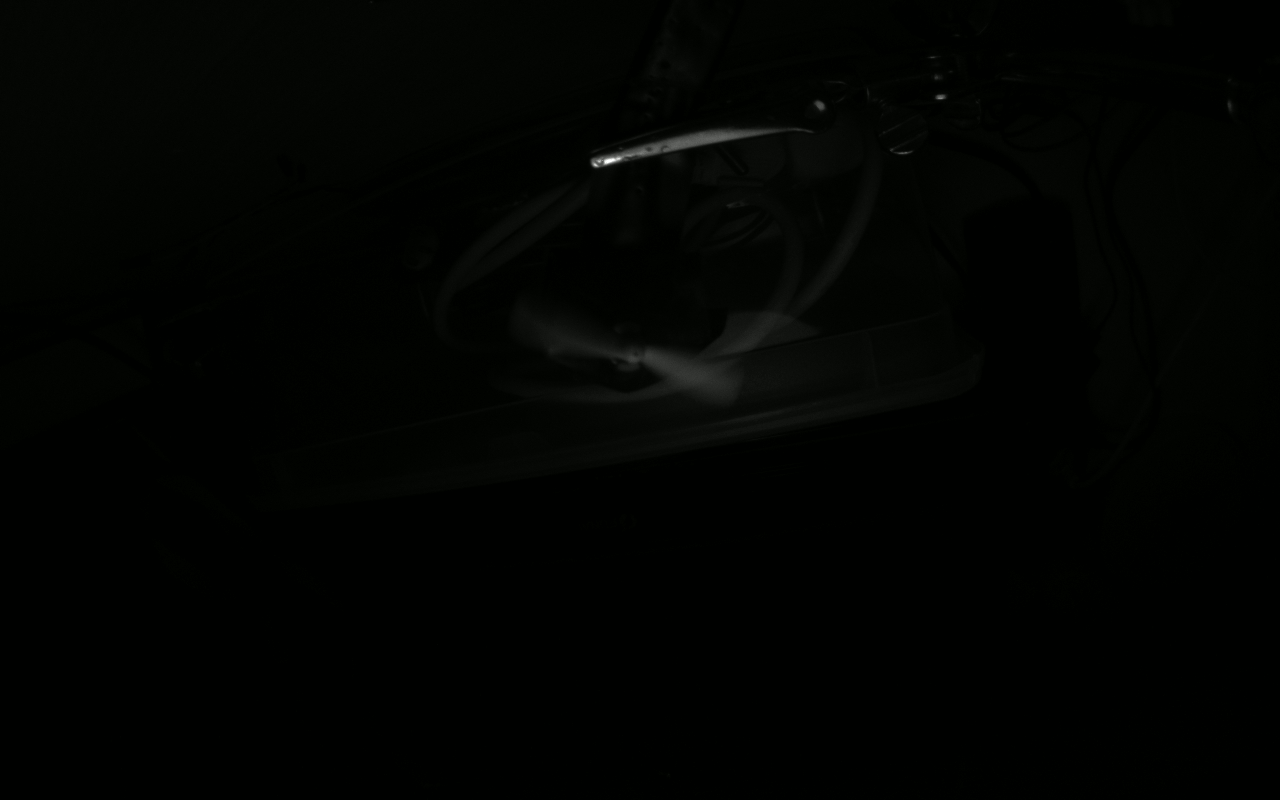 Next I used the 5000lm led, shining for a few seconds in order to not get too hot, allowing to click on the opencvGui demo "Snapshot" button for capturing a single frame. Now the propeller is captured sharp. What I cannot explain yet is why the frame shows some very light white disk where the propeller rotates, I would have expected to see the sharp blade only: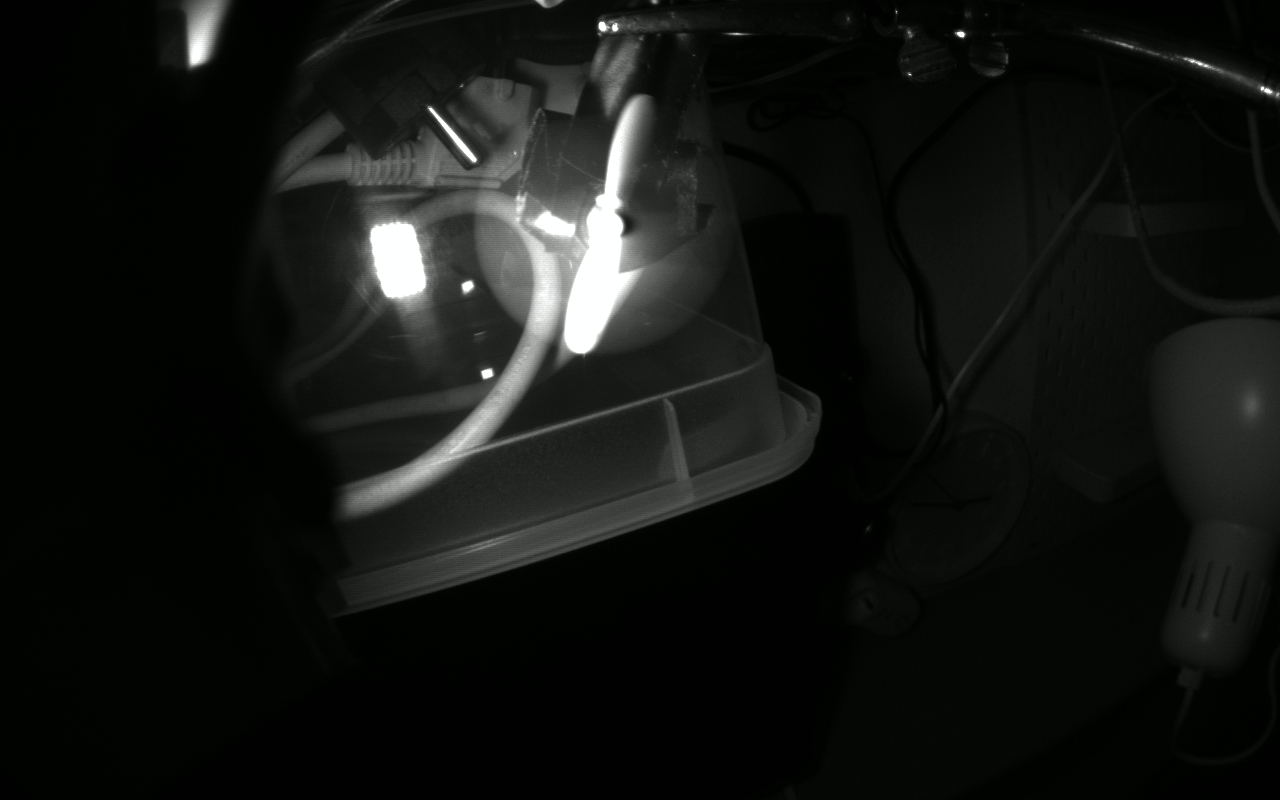 In the previous frame the 5000lm led can be seen mirrored in plastic box in background. I moved a cardbox between 5000lm led and plastic box in order to avoid light from behind the propeller having an effect of the captured frame. There is a change, but still some very light white disk can be seen in addition to the sharp blade captured for the exposure=1 exposure time:
Summary sofar:
exposure=1 is fast enough for capturing 45m/s moving objects sharply
5000lm led just in front of propeller is bright enough
bright light can shine the whole time, since the hardware exposure time is very short
Next I want to capture airsoft pistol pellets in flight.
A single pellet does fly with 36m/s, so will be captured sharp.
I think that exposure=1 is the time that a single 1280 pixel row needs to be transferred to Pi via CSI-2.
Assuming capturing speed 60fps that means capturing time was 1s/60/800=21µs.
In that time pellet does fly 21*0.036mm=0.76mm, pellet has diameter 6mm.
Now recording 1280x800@60fps video, there is 16.6ms between frames.
Pellet does fly 60cm in that time, so shooting several pellets will likely capture pellet(s) in 60fps video.