For v1 camera clone global external shutter work I built a 20$ 5000lm diy highspeed flash. I was able to capture (multiple) exposures with 4µs, mostly with 9µs flash durations (was good enough to capture airgun pellet inflight with 109m/s, clearly). I did a comparison to 940£ Vela One flash (1,000,000lm, but only 50Hz maximal strobe frequency instead of 20KHz with diy flash). One advantage of Vela One was that it allowed for 0.5µs flash duration:
https://github.com/Hermann-SW/Raspberry ... ed-flashes
Initially I used two 0-24V IRF520 mosfets in series to power 50W led with 38V/1.5A from led driver. Lately I use single 0-100V IRF520 mosfet instead.
Yesterday I posted on nanoflash.c code, based on pigpio nanopulse.c example. It allows for 3ns..149µs duration flashes, triggered by rising edge of GPIO4:
viewtopic.php?f=33&t=283993
I mainly used HQ camera module VSYNC signal to trigger, but hardware camera sync pulses for v1+v2 cameras works as well:
viewtopic.php?f=43&t=190314
Yesterday I wanted to know how low pulse duration is still capturable with 5000lm led directed into 35mm C mount lens HQ camera. This should only be done with very short pulse durations in order to not damage HQ camera sensor.
This was how I did it:
left bottom window starts nanoflash with specified duration
right bottom raspivid captures 4056x3040@10fps, scaled to 507x380 with annotated preview window top right
top left window uses raspi2png for screenshot, and uses netpbm tools to cut out preview window only
After this screenshot, I turned off light for dark room.
I captured flash durations 500/400/300/200/150/140/130/120/110/100/90 nanoseconds and created 1fps animation from that for easy comparison of the captured frames. One of the 6 rows of leds is broken, and down to 110ns all remaining leds show up. 500ns flash duration feels still bright, will try capturing airgun pellet inflight when back at home with 0.5µs. This is animation: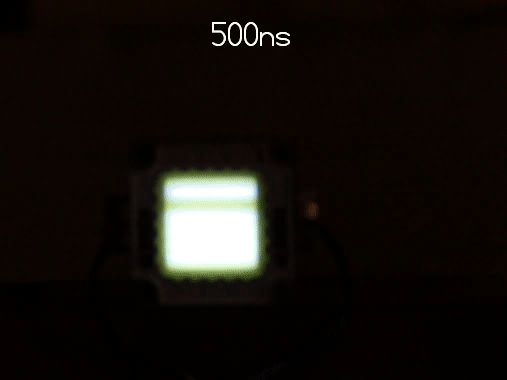 P.S:
Light travels 33m in 110ns, so this type of led is not good enough for very short light pulses. I tried green laser as well, and lowest visible duration was 500ns, with green laser directed into camera.