Here is simple graphical interface for testing out
some
of the options when taking photos on the Raspberry Pi camera. Written in python 2.7, it collects the options required, calls the command line program "rapistill" and then loads the image. It works when running headless over ssh – a main driver for writing it. The command line used is shown underneath the image.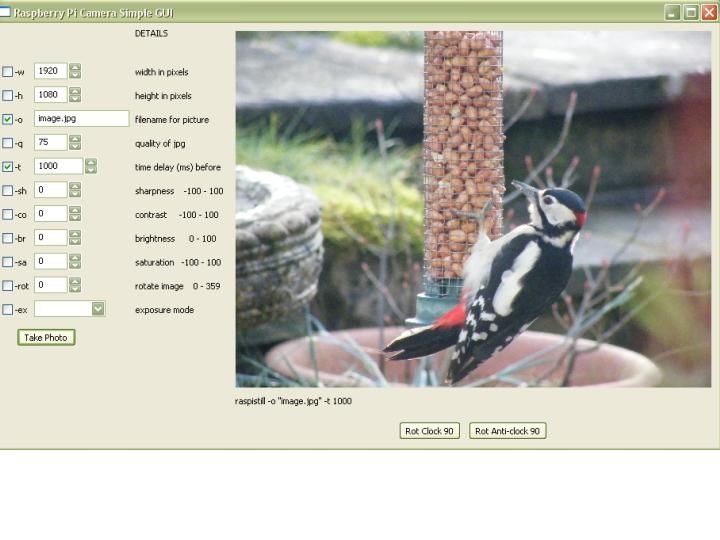 Program available at
https://github.com/sixbacon/RPICameraGUI.git
Run it in IDLE , but you may have to load the
wx
module.
You can run it from a terminal session by typing
" python RPiCameraGUI.py"
Remember to check the relevant box, if you want to use a setting.
Note if you specify a small photo size, the program will scale it up the fit. It will be pixelated though.
The images are stored in the same directory as the program resides. You can move them and rename them with other programs.
The rotation buttons operate on the image in memory, not the camera, and are useful when setting it up.
It is a first attempt - no detection of camera problems, and not all the options are available. If you like it, improve it or suggest improvements. Python experts will hate the code, I might tidy that up. If you want to fiddle with the program on another computer, comment out the
subprocess
call in the TakePic method and have a jpg called "image.jpg" available for it to load.