Until now my "Raspberry laptop" consisted of several distinct parts:
https://www.raspberrypi.org/forums/view ... 5&t=219214
Yesterday I mounted everything besides small wireless keyboard onto a 4mm thick wooden board
(backside of board I used to
test wireless payload drop mechanism
):
- 7inch DPI LCD (
https://www.waveshare.com/wiki/7inch_DPI_LCD
)
- RGB 50P TO 40/50P adapter
- Pi3B
The adapter and Pi3B with diagonal screws with nuts, the LCD with two small dots of superglue on top left and right backside.
Two USB ports are used, one for wireless keyboard dongle, the other for Scorpi B+ gooseneck camera mount (with 70mm lens v1 camera):
https://www.raspberrypi.org/forums/view ... 8#p1493151
This is WoodenBoardPi in its home position when not moved around. The right part of board is reserved for mobile powering with 3S 1000mAh 25C lipo. Will be filled when I have resolved the undervoltage symbol issue, perhaps caused by
LM2596 adjustable step-down module
I try to use. This will be a good weather only outside laptop since eveything is unprotected. I already tested that WoodenBoardPi perfectly fits onto a 1.5m high music stand's plastic music rest for indoor/outdoor operation. I use 1m long camera flex cable to be able to put gooseneck camera mount into a 2nd unpowered Pi2B apart from WoodenBoardPi: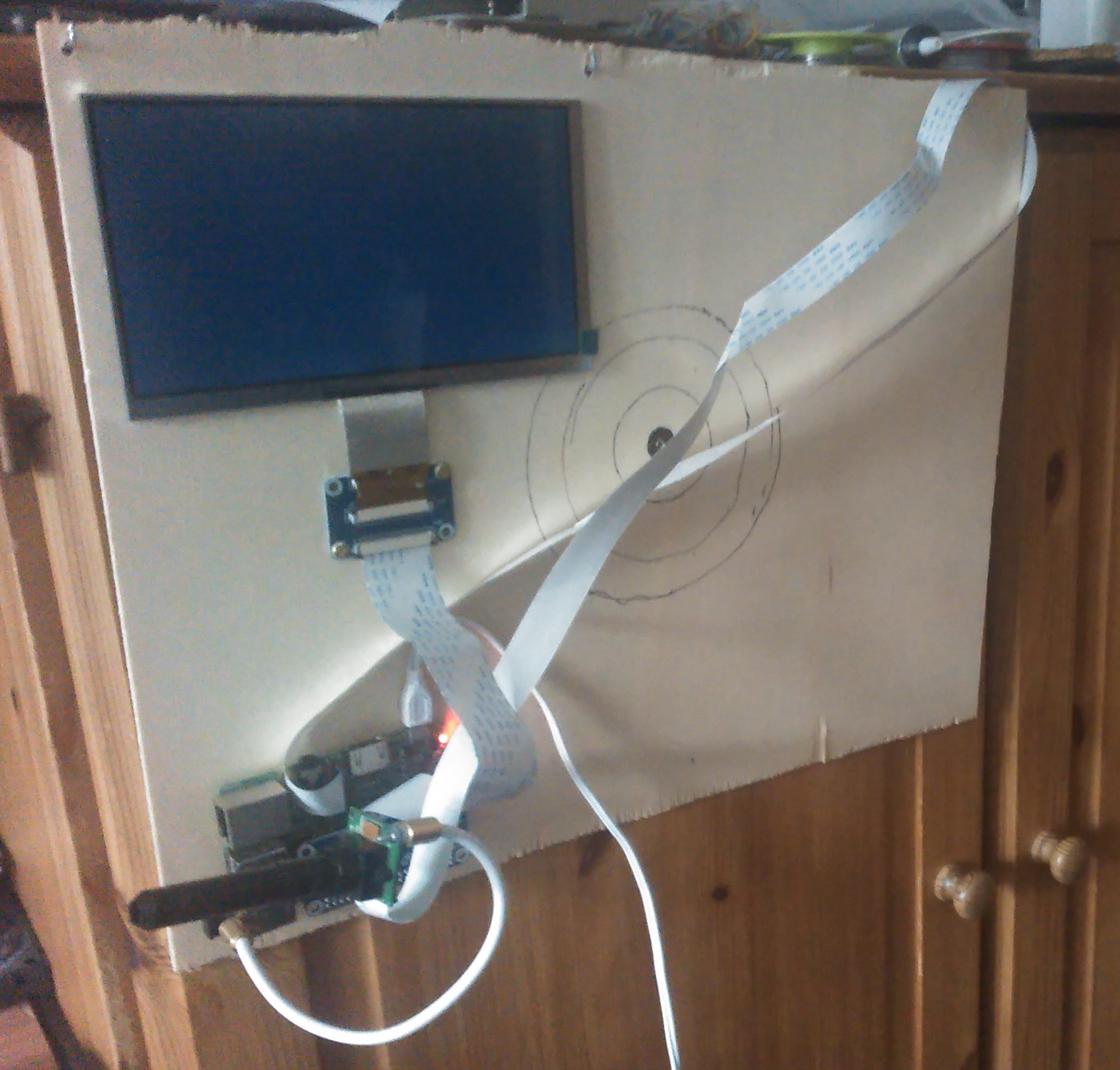 This is a screenshot (taken with
raspi2png
via ssh session) showing what the 70mm lens on v1 camera does show in raspistill preview. It is rainy outside, I am quite impressed that even horizon tree tops can be seen. Even more since the image was taken through black window-frame fly-screen (2mm wide hexagonal meshes of 0.1mm filament):
Code: Select all
33.3m  next house gable top (bottom right, roughly 5m higher than camera)
62.2m  low energy street lighting top (bottom left, even higher)
>500m  horizon tree tops

This is gmaps-pedometer.com measurement between location of WoodenBoardPi in our house and street lighting top:
P.S:
I found a workaround for outdoor powering with our car:
A cigarette lighter to 5V/2.1A adapter, then one or more USB extension cables, and finally converter cable to Pi micro USB.