UPDATED 29/03/2015
Update - fbtft has now been included in the latest raspbian image and uses Device Tree - see this thread on how to configure the very latest raspbian os
http://www.raspberrypi.org/forums/viewt ... 5&t=105797
Note - select the HY28A overlay, not the HY28B
UPDATED 15/03/2014
The extremely talented notro has beening working hard to produce a raspbian based image that has the drivers built into the kernel.
This means that the console output goes to the TFT display much sooner into the boot sequence. Also he has created a ready-made image for you to download so that you do not need to go through the configuration procedure below
The image can be downloaded from here :
http://tronnes.org/downloads/2014-06-20 ... -hy28a.zip
Notes and further setup details can be found here :
https://github.com/notro/fbtft-spindle/wiki/FBTFT-image
Slightly updated python test program (remember to run sudo ts_calibrate before running) :
UPDATED 2/11/2013
Instructions for raspbmc are in this post :
http://www.raspberrypi.org/phpBB3/viewt ... 20#p447220
Placeholder for the 2.8" TFT Shield instructions, as described here :
http://www.raspberrypi.org/phpBB3/viewt ... 59&t=48956
and the updated 'v1b' and 'v1c' shields here :
http://www.raspberrypi.org/phpBB3/viewt ... 93&t=53144
Many thanks to Notro for the excellent fbtft drivers.
Screen and TP use hardware SPI ( SLCK, MOSI, MISO, CE0 & CE1 ) plus 3 additional GPIO lines ( GPIO17, GPIO18 & GPIO25 ), keeping the other GPIO lines free for other uses - the pcb has a 'breakout' GPIO port to connect too.
You no longer need to start off with notro's image - you can now start off with a standard raspbian image (or even raspbmc
)
However early versions of the raspbian image did cause some problems, so it is recommended to use version 2013-09-25 or later.
# Expand root filesystem
# Need to install the latest rpi-update like this, or else the REPO_URI variable gets overwritten
# Issue:
https://github.com/Hexxeh/rpi-update/issues/106
Then to configure the touch panel
Note that if you have other input devices, ie keyboard and/or mouse, /dev/input/event0 may be, for example /dev/input/event1 or /dev/input/event2 or /dev/input/event3, etc.
Here is a test python program than uses pygame :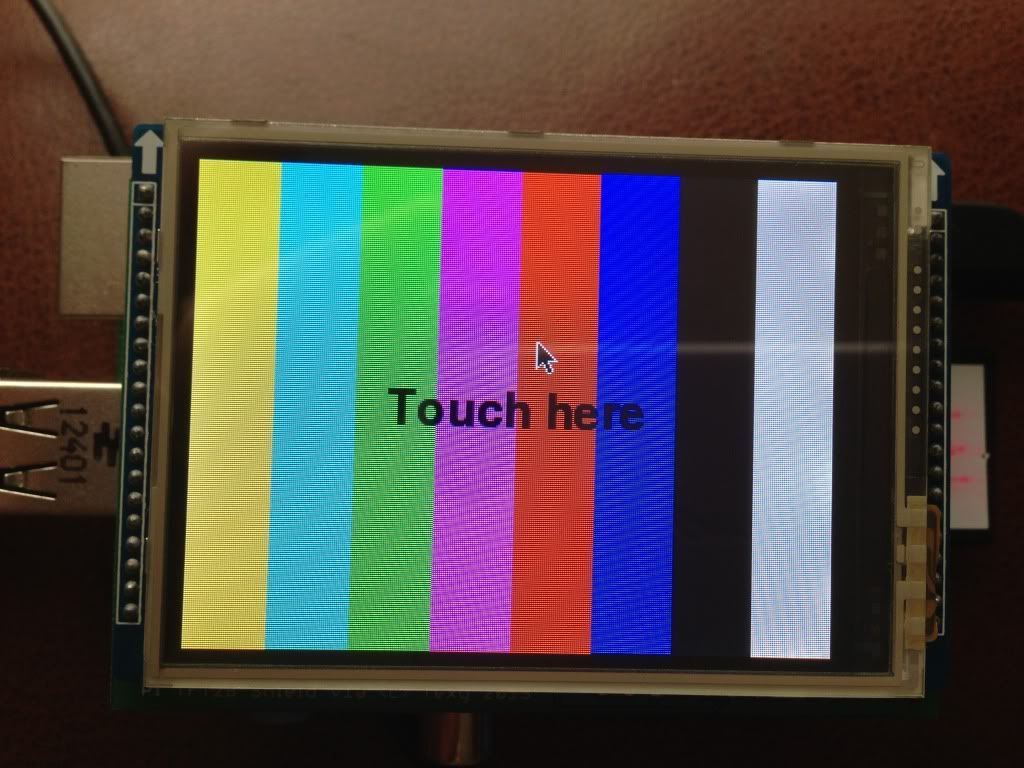 With this configuration, the screen has been rotated for landscape use. In order to use the touch panel with X, the touch panel input also needs rotating.
Do this by
Some people have seem issues with the touch panel having y-axis inverted in X11. If you see this problem you'll need to modify usr/share/X11/xorg.conf.d/10-evdev.conf :
Finally, to allow the console to be shown on the display from boot-up modify /boot/cmdline.txt :
Note all of the instructions in this post assume you wish to use the display/touch panel in landscape mode, with the hdmi connector at the top as you look at the pi/shield.
Of course, there are 3 other orientations possible, so notro's github page for further information -
https://github.com/notro/fbtft/wiki
Much more information and discussion can be found in this thread :
http://www.raspberrypi.org/phpBB3/viewt ... 64&t=34007
Many thanks again to Notro for the drivers, and also Andybiker for the inspiration

NOTE THAT APT-GET UPGRADE WILL BREAK THE DRIVERS - SO USE THE FOLLOWING PROCEDURE TO UPDATE THE SYSTEM :
Texy