I know how to use "sudo modprobe fbtft_device ..." to setup a ili9341 display from the command line on SPI0.
I even found how to do that when connecting display on PI Zero's SPI1 instead of SPI0:
viewtopic.php?f=44&t=22608&p=1216154#p1216154
I changed "reset" pin GPIO23 to GPIO25 for rpi-display via "gpios=..." to get a compact superglued connector for SPI0:
viewtopic.php?f=63&t=157618&p=1214626#p1214626
Later I realized that this changed pin is the default for "adafruit22a" display. And really this started my display on SPI0 with default values:
Code: Select all
$ sudo modprobe fbtft_device name=adafruit22a rotate=90
Then I had to learn that "sudo modprobe fbtft_device ..." does not allow to setup two displays at the same time.
Instead I should setup one display at boot time, and the second with the mentioned command.
I found a youtube video demonstrating that two ili9341 displays can work on Raspberry Pi:
https://www.youtube.com/watch?v=wxJpWRPKe-g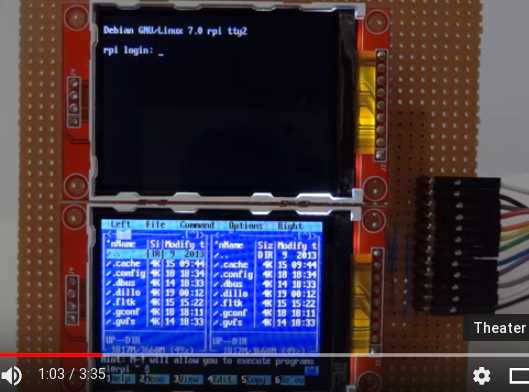 I found this description of steps on how to get ili9341 loaded at bood time:
http://www.raspberrypirobot.com/2-2-tft ... spberrypi/
I only did the addition to "/etc/modules" as described and rebooted -- no effect.
Then I did the "Install notro rpi-firmware update" step from that description and rebooted.
Now the Pi Zero does not boot anymore. Even uncommenting the /etc/modules line on SD card in laptop did not help.
Definitely that firmware update kills a latest and updated Raspbian stretch.
(I connected a HDMI monitor and see nothing, PI Zero activity LED keeps blinking)
So my question is simple, just for one ili9341 display that is connected so that "sudo modprobe fbtft_device name=adafruit22a rotate=90" starts it correctly from the command line, how can I install the adafruit22a module during boot on Raspbian Stretch?
I assume that this should not be difficult, but I was not able to find out how.
Hermann.