ejolson

wrote:

↑

Thu May 28, 2020 10:35 pm

trejan

wrote:

↑

Thu May 28, 2020 10:21 pm

pagenotfound

wrote:

↑

Thu May 28, 2020 9:57 pm

Does anybody know whether the speed of the RAM is higher compared to the 2/4 GB models?

The specifications page on raspberrypi.org still says LPDDR4-3200 so it is likely to be the same as before. The new 8GB part is rated for a higher clock but the 1/2/4GB Pi 4 boards never ran the RAM at the maximum possible clock anyway.

Code: Select all

2GB = D9WHZ = MT53D512M32D2DS-053 WT:D = 16Gb 1866MHz
4GB = D9WHV = MT53D1024M32D4DT-053 WT:D = 32Gb 1866MHz
8GB = D9ZCL = MT53E2G32D4NQ-046 WT:A = 64Gb 2133MHz

It can be confirmed by running "vcgencmd measure_clock pllh" on an 8GB Pi.

As explained here

viewtopic.php?f=63&t=271121#p1644747

one of the main constraints to parallel scaling in the Pi memory subsystem is how many rows of RAM can be open at a time and across how many banks can reads and writes be scattered.

If someone who has an 8GB Pi could run the parallel stream benchmark using the script posted in

viewtopic.php?f=63&t=271121#p1644489

that would determine whether the 8GB chip leads to better performance.
For what it's worth, Tom's Hardware has made a simple memory test comparing the 8GB model to the 4GB one.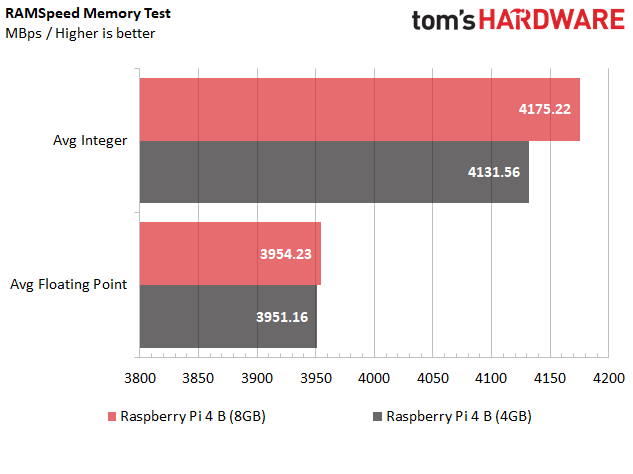 https://www.tomshardware.com/news/raspb ... 8gb-tested
While the axis on the graph is confusing, the performance appears identical to within 1 percent. I wonder if the parallel scaling of the stream benchmark is also the same.