A guide to getting started with the Raspberry Pi. Begun by Abishur, post edited and expanded by Mahjongg and Lorna.
Getting started and general questions
If you would like to buy a Pi and/or accessories, and are looking for advice on this, you might like to consult the
pictorial buying guide
You can find the latest
quick start guide
on the Raspberry Pi website. This start guide uses the NOOBS installation system: the latest version of this comes with the Raspbian OS as standard, but other OSes can be installed when you connect the PI to the internet via the ethernet port.
You can the find official documentation for the Raspberry Pi on the
Documentation page
.
If you have trouble getting your PI to boot, or have difficulty getting any video output, you might find it helpful to read the
boot problems sticky
.
If you have you Pi set up and working, and want some ideas for what to do next, you could check out our
Resources page
.
Getting to grips with your Pi
Arrange your board to look like the photo and let's get connecting!
If you have the model B+, orient it like this: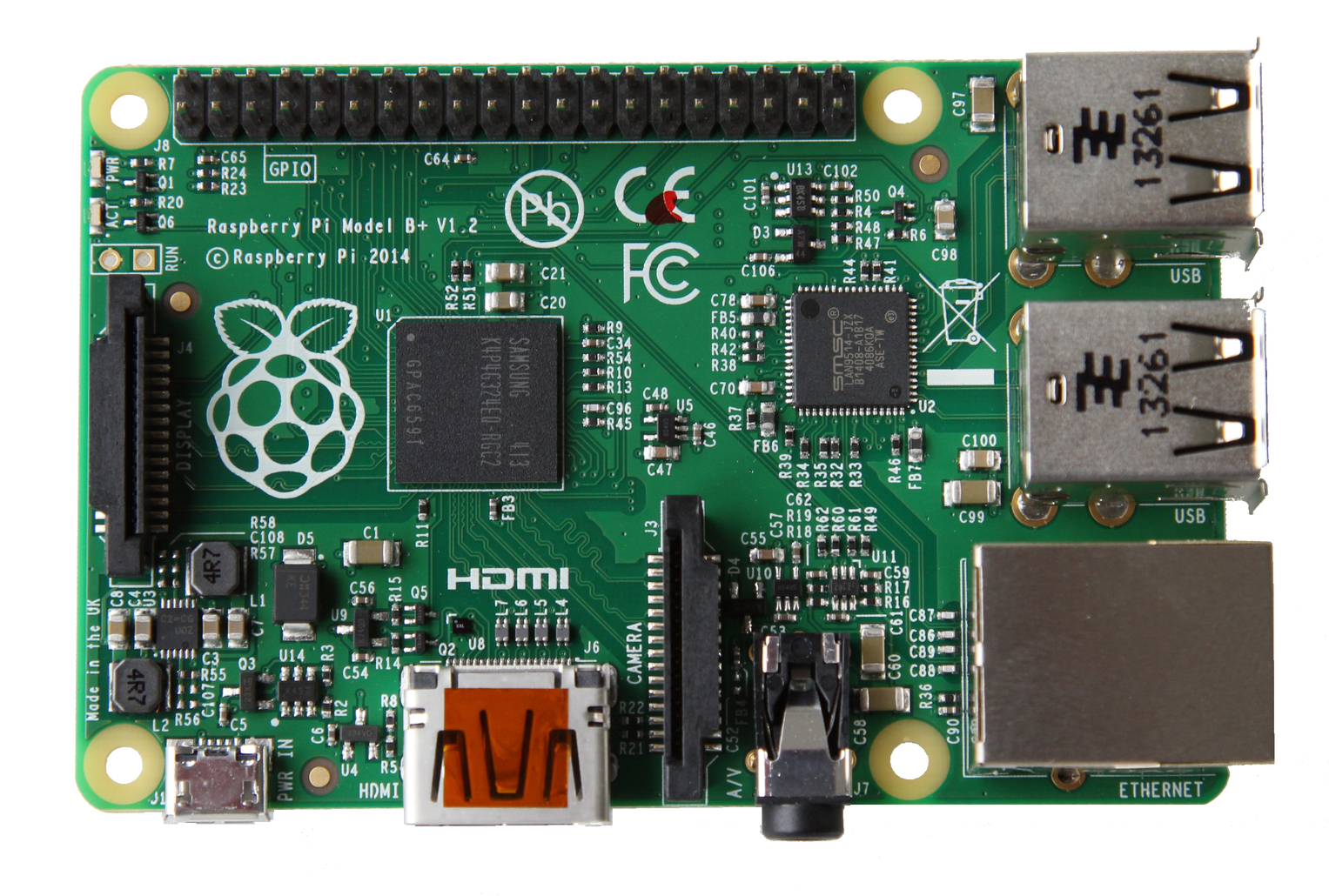 If you are working with the original model B, orient it like this:
If you are using a model A+, orient it like this: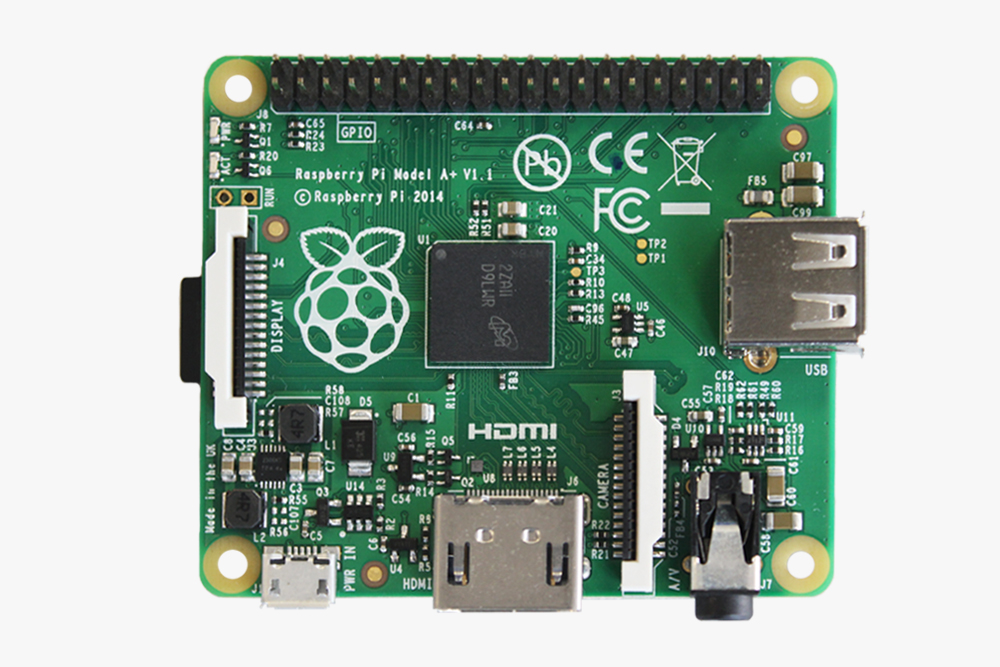 or a PI Zero, like this:
In the centre of the bottom edge of the board, (bottom left for zero) you will find the HDMI port, or mini HDMI port for the zero. Connect a (Mini) HDMI cable from the board to your TV or HDMI Monitor for video and audio output, or to a DVI-D monitor for video only.
If you don't have a TV or monitor with an HDMI or DVI-D port, there are alternative ways to get audiovisual output. On the models A and B, you can use the yellow RCA jack located in the centre of the top edge for video output. For audio output, you can use the 3.5 mm stereo headphone jack to the right of the RCA jack. The models A+ and B+ have a single connector for both audio and video: it is marked "A/V", and is located at the bottom of the board, to the right the HDMI port. You will need an A/V adapter cable, as detailed in the
pictorial buying guide
.
The Zero has a pair of pinheader solder points, to which you can solder a pinheader, or a mini coax RCA cable directly. The left (square) position is the signal, the right (round) position is for the shield (Ground). The Zero has no direct analog audio output, but HDMI audio works fine. If you must have analog audio out, you can do three things: use a I2S codex (in the form of a (micro) HAT board), or use an USB audio device, or solder some resistors and capacitors to a few GPIO's to change PWM into stereo audio, and change some software settings, more about this option elsewhere in the forum.
Plug a USB keyboard and mouse into the USB slots located on the right edge (left microUSB on the zero). You can also plug a WiFi adapter into the USB slot for wireless internet access. If you are using the older A or B models, you will probably wish to use and externally-powered USB hub to expand the number of available USB ports.
For the B, B+ and 2B, Just below the USB ports on the right edge of the board is the ethernet connector: this enables you to connect your Pi into a wired network.
On the underside (topside for Zero) of the board on the left edge is a slot for your (micro)SD card. You can buy a pre-imaged card with NOOBS already installed from our
Swag Store
, or you can make one yourself. You can find more information on NOOBS, and on installing your operating system, later in this post.
Finally, at the very bottom of the left edge (right microUSB on the Zero) is the micro USB power connector. Plug in a regulated power supply that is rated at 5V ±5% and at least 700mA (or 0.7A). Anything bigger than 700 mA (like 1000mA) will also work. Avoid using the smaller chargers used for small GSM phones, as these are often unregulated and unreliable. The model B+ and the Pi 2 can use adapters up to 2.5A, but they are actually more frugal with power than the older models, and will probably work with a 700mA adapter, or maybe even less (depending of how much current the USB and HDMI ports use). Please note, though, that using several USB devices or working on intensive tasks will draw much more current. If the PWR LED goes off, you are providing insufficient power (But note that the Zero does not have a power LED, but uses much less power than other models (0.16A) so is less likely to fail due to bad power)!
If you are having problems with power to your Pi, you should not only check the supply itself, but also the cable from the power supply unit to the Pi: frequently, cables can lower the current/voltage going from the power supply unit to the Pi to below the level required for stability.
What if you are not sure if you have a micro USB power cable? This picture clearly shows the difference:
The mini USB (on the left) is the wrong one. It's thicker and looks like a trapezoid with its sides pinched in. The micro USB (on the right) is the correct one. It is thinner and also looks like a trapezoid except its sides are rounded outward. It is very important to buy a good-quality cable if you want to ensure that your Pi receives a stable supply of power. Use a short, reasonably thick cable, and be prepared to spend at least a few pounds (or the equivalent) on it. If you would prefer to buy the official Raspberry Pi Universal Power Supply, you can do so via our
Swag Store
.
Installing NOOBS
Visit our
Downloads page
to get hold of an OS to use with the Raspberry Pi, together with instructions for how to put upload it to your SD card. Raspbian is the preferred option, but don't be afraid to download all the available options, and test them out for yourself!
Before installing NOOBS on your SD card, you must first erase the card completely, and remove all partitions, using the SD Card Association's
formatting tool
:
https://www.sdcard.org/downloads/formatter_4/index.html
. DO NOT use its quick format option, especially if the card has been used before, or the install might fail. Also use the "resize" option, and label the format "noobs", NOOBS will partition and format the card as neccessary, but it needs to begin with a completely empty card.
You can find information on how to use the
NOOBS installer
here:
https://github.com/raspberrypi/noobs/bl ... x-software
When you have loaded NOOBS onto the card, it should contain these files:
If you just need to install a single OS, and want to save download time and space on the SD card, you could consider using
NOOBS LITE
instead of NOOBS. NOOBS LITE doesn't come with any OSes included, but the OS to install is downloaded during the installation process. Please note that you will need your Pi to be connected to the internet for this to work.
Both NOOBS and NOOBS LITE can be found here as free downloads:
http://www.raspberrypi.org/downloads
Using your Raspberry Pi
Once you have finished setting up your Raspberry Pi, it's time to try powering it on and using it. Connect the micro-USB cable to your Pi and a power source. When the Pi begins to receive power, the red LED marked PWR will light (except for the zero). The green LED marked OK (or ACK in later version) will blink in an irregular pattern to show whenever the Pi reads from the SD card.
Please note that the BIOS for the Pi is stored on the SD card, so, if booting is unsuccessful, the Pi will show nothing on screen. If you have trouble getting your Pi to boot, read the
guide to boot problems
, which contains all the troubleshooting information available at this time.
If all goes well and the OS boots successfully, the Pi will first show a rainbow screen: this is actually four pixels expanded and blended to full screen size by the GPU, and is a GPU selftest. Shortly afterwards, the ARM processor starts, and the installed OS begins to load. Raspbian starts by showing a long scrolling text that tells you exactly what the Pi is doing to get ready to work. If you have a Pi 2 which gets stuck at this point, you are probably using obsolete firmware: see below for updating and upgrading the version of the OS you are using.
Once the Pi finishes loading the OS, you'll need to put in your user name and password: the default username is "pi", and the default password is "raspberry". Note that, when you enter the password, nothing will be displayed on the screen: this is a security measure. It is possible that this step may be skipped the very first time you boot.
After that (but only the first time you boot) you will be presented with the "raspi-config" configuration menu.
You should use this to expand the space on your SD-card to the full size of the card (otherwise not all of the space on the card will be actually used), to enable overscan for your monitor, and to set the keyboard configuration. You can also use this menu for other basic configuration options such as changing your password.
The menu won't be shown on later boots, but can be recalled at any time by using the following code:
Congratulations! You now have finished your first session!
How to get composite video working with NOOBS
It is important to note that, when you are using NOOBS, and are using a A/V (or composite RCA) video for a regular TV (or mini display with a composite input), you will not immediately get any picture: you need to press 3 (for PAL), or 4 (for NTSC) repeatedly to switch over from HDMI to composite. You should wait a couple of seconds or so before starting to press 3 or 4, as NOOBS need to boot before it can start listening to the keyboard. If you want to know if NOOBS is receiving input from the keyboard, press Caps Lock: if you can toggle the CAPs LED on and off, NOOBS has booted and is reading the keyboard.
Keep pressing the 3 or 4 key until video appears: it doesn't matter if you use numpad or regular number keys for this, but note that on a French keyboard you do not need to press shift for numbers, as the system assumes an UK keyboard. After you choose either PAL or NTSC, the system asks if it can make that choice permanent. Do that, and continue with the install. Note that this choice will be carried over onto the installed OS, because it will be written into config.txt, overriding the HDMI auto detection of the OS.
If the picture is monochrome, you are using the wrong TV standard: try changing from PAL to NTSC, or vice versa. If you are using a B+ A/V cable of unknown origin or type, please note that not all similar looking cables work: with some (camcorder) cables it is possible that the video may come out of the red plug instead of the yellow (video) plug.
If you are using a HDMI connection, NOOBS should give you a picture automatically, but if it does not, or the picture seems wrong, you can try switching between "safe" and "optimal" HDMI video settings by pressing 1 or 2.
After installing (for example) Raspbian, the next reboot will start it rather than NOOBS: Raspbian has a slightly different way with coping with composite video. It will look to see if an HDMI device is connected; if it doesn't see one, it will automatically switch to (NTSC) composite (unless you have saved an overriding video setting into config.txt, as noted above).
If you are using an older PAL TV, you may only get a monochrome picture: you might want to change the entry in config.txt that says "sdtv_mode=0" to "sdtv_mode=2" for PAL. You can also do this from NOOBS: restart while holding down
shift
and the Pi will boot into NOOBS. Press 3 again for a composite picture and choose the option to edit config.txt, then edit, save, and reboot.
Updating and upgrading Raspbian
If you are using an older Rasbian distribution, especially on a pre-loaded card, you might want to upgrade and update Raspbian to the latest version. Ensure you are connected to the internet, reboot Rasbian, and enter the following code:
Special instructions for upgrading and updating Raspbian for users of the Pi 2
Since the release of the second generation Pi 2, you need to ensure that you are using a distribution of NOOBS and Raspbian which was released after the launch of the Pi 2.
If you have a card with Raspbian that boots correctly on your old Pi, but doesn't boot on the Pi 2, or which gets stuck at the "rainbow screen", the following procedure should result in a card that also works on a Pi 2:
Other information
You may find it useful to consult the official
Raspberry Pi User Guide
, written by Eben Upton and Gareth Halfacree.
You can find the Raspberry Pi Education Manual (an educational guide with focus on learning to program, written by a team of UK teachers from Computing at School) in the Raspberry Pi Store, accessible from your Pi's desktop. Alternatively, you can download it from the link given in
this post
.
http://www.raspberrypi.org/archives/2965
Finally there is the free monthly magazine,
The MagPi
, which can be found here:
https://www.raspberrypi.org/magpi/
Last edit: 6 December 2015 by Mahjongg