Hi,
I am tying to get a wifi dongle set up. Although the module is loaded, no interface shows up. The device has the rtl8812au chipset and looks like this: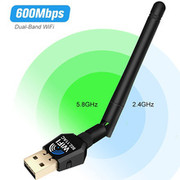 I followed the accepted answer here:
https://raspberrypi.stackexchange.com/a/67721
I managed to compile the 8812au.ko kernel module. It is loaded and listed by lsmod:
What can I do to debug?
How can i verify, that my dongle really is supported by the 8812au module?
Thanks in advance!