PhatFil

wrote:

↑

Sat Jul 27, 2019 7:17 pm

jj_0

wrote:

↑

Sat Jul 27, 2019 7:10 am

Well, assuming idle temp of 41'C, 73'C is only at 82% of the usable (non-throttling range). I've let the test run overnight for ~10h20m. Highest temp is 71'C, highest temp of case is 49'C. Ambient temperature dropped to 24'C during the night but increased to 26'C during the night.

So it looks like at ~70'C the case is able to keep it stable.

ok you have convinced me... great response btw..
Thanks
I've done another run using cpuburn-a53. Not exactly the same circumstances, this time I used the perforated bottom of a Pi 3 flirc case and turned the case upside-down to let the warm air escape. The reason was that my Pi 4 smelled a bit like 'hot electronics'. The case only cools the CPU of course, not any other chips that might heat up.
Similar results as before with slightly higher temperatures that are reached quicker. I added CPU frequency as well to see if it's throttling. I leave it to the reader to spot when I opened a window which caused airflow and dropped ambient temperature from 26'C to 22'C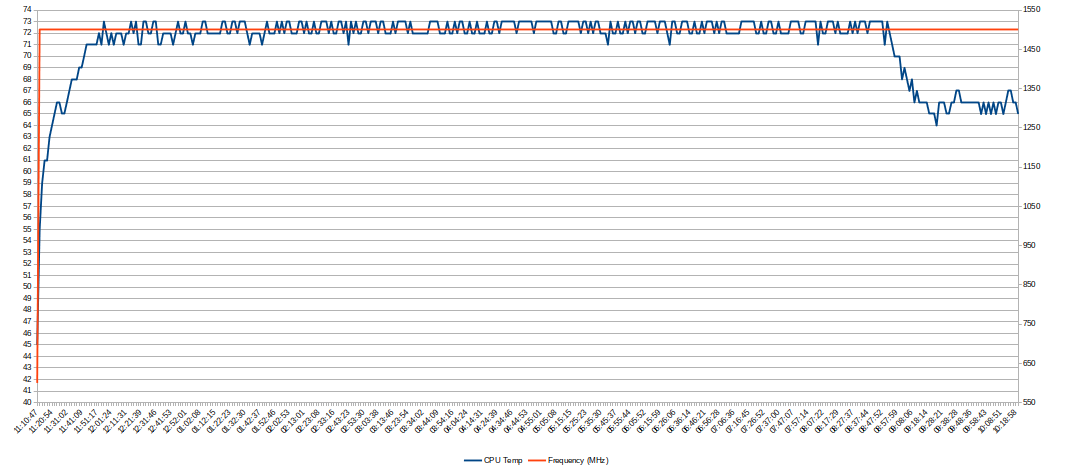 And finally, a run with overclock to 1.7GHz and ambient temperature a stable 30'C (in my utility closet). Now there is some throttling until I add a household fan in the mix.