---
In the future, please upload the photo to the forums so others don't have to click a link.
Like this: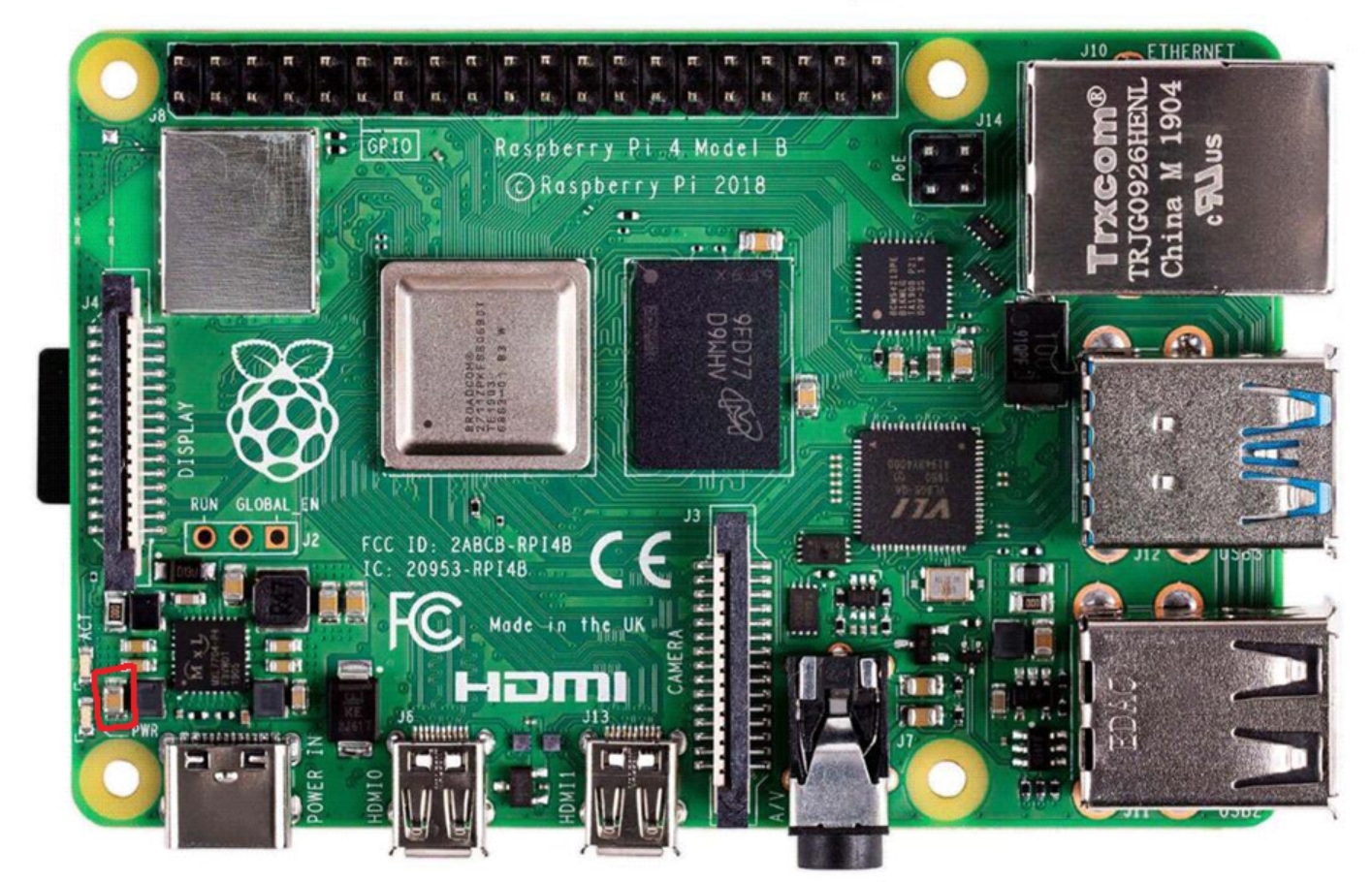 Last edited by
Botspot
on Sat Jan 11, 2020 2:19 pm, edited 1 time in total.
---
Looks like it is C8 on the schematic. If so it is the output capacitor for the PMICs 1.1V output which is used to power the RAM. I'm surprised it runs without it. Schematics say it is a 47μF 6.3V 20% X5R M2012 capacitor.

Small SMD components like that capacitor are easily damaged e.g. screwdriver hitting it when fitting the Pi into a case.

The traces are fairly big and have via stitching so I assume the pads aren't completely obliterated. It should be possible to solder on a replacement capacitor if you're confident with your soldering skills and have a sharp tip on your soldering iron.
---
No it sits on a desk so nothing ever hit it i just picked it up to plug the microhdmi in and it fell of in my hand but it seems to work fine without it even ran some stresstests for an hr and it was fine and yeah i have no soldering skills and not a good soldering iron so yeah. Any advice on what soldering iron and tips i should buy to do this?
---
https://www.ebay.com/itm/Adjustable-Ele ... vMya86pXaA
Best deal is $5-$10 Ebay 60w adjustable Hakko clones with iron clad tip. Check for that in specs and test with a magnet. I find the tiny needle point tips are no where near as useful as 3-5mm chisel type. It's a latent heat thing and the more mass you start with the better. Counter intuitively even for SMD.
Regardless wipe the tip so it's clean and shiny, tin the parts, then get in there, do the job, and get out.
---
if getting a X5R M2012 type capacitor is proving difficult and/or hard to solder to the board.....

this may be a good replacement:
these type of capacitors are readily available (in my case)
and I've replace some (on other boards) that fell off, with this type
it may not look good.... but it works.
"Don't come to me with 'issues' for I don't know how to deal with those
Come to me with 'problems' and I'll help you find solutions"
Some people be like:
"Help me! Am drowning! But dont you dare touch me nor come near me!"
---
Does the orientation matter at all? and should i actually bother to try and solder it back on if the pi functions normally? Thanks for the help
---
Except that that picture has not been "uploaded to the forums" !
It's hosted at
Code: Select all
https://i.gyazo.com/b4e16c7697f28cc409b276574b377f6f.jpg
What you want to do is put the URL between tags using the "Insert Image" button above the editor text window.
Code: Select all
[img]https://i.gyazo.com/b4e16c7697f28cc409b276574b377f6f.jpg[/img]
PeterO
Discoverer of the PI2 XENON DEATH FLASH!
Interests: C,Python,PIC,Electronics,Ham Radio (G0DZB),1960s British Computers.
"The primary requirement (as we've always seen in your examples) is that the code is readable. " Dougie Lawson
---